24 hours emergency A/C Repair Fair Lakes Va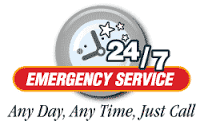 In the event of an emergency with your residential heating and cooling systems, we understand that you simply cannot wait! At AA Rapid Air, we take your comfort and well-being seriously, and are proud to offer our emergency HVAC repair at any hour, on any day. We provide only the highest quality services to ensure your needs are met, whether you need maintenance, repair or even a full emergency replacement!
Our team of professionals possess singular skill and knowledge in their respective fields, offering excellent service with a smile! All of our staff are fully certified, and constantly undergo training to ensure we stay up to date with all of the latest technology and techniques needed to meet all of your heating and cooling needs.
Need emergency HVAC repairs that you can trust? Call on our team today, you can reach us online or over the phone at 703 978 3010 according to your convenience.
Fair lake Emergency HVAC RepairsWhen it comes to your HVAC systems, any problem at all can be a huge source of stress and discomfort. Contact our professionals for repairs right away if you notice any of these signs:
Unusual ice buil up any where in the HVAC system. This could be an indication of serious problems. We consider freezing to be an emergency, because left alone, they may spell the end for your system. This can necessitate costly replacements and maintenance that may be avoided if you act quickly!
Whether standing water or drippy chemicals, any form of leak can lead to a quick disaster. Don't let a leak stand! Contact our team immediately and get this problem handled.
Strange odor. It could be as simple as dust buildup on a coil, or that odd smell could be something much more insidious. Put your mind at ease and call an expert! If you ever note a burning, "ozone" or char smell from your heating or cooling systems, contact emergency services. This problem is very dangerous!
Fair lakes Emergency HVAC ReplacementYour HVAC system may not always choose a convenient time to go kaput. Don't put your comfort and health on the line by waiting, call on a professional at R.S. Andrews any time, any day to consult us about a full replacement. We offer replacement on all HVAC systems, including:
Central air
Furnace
Boiler
Heat pumps
Ductless systems
Indoor air-quality equipment
And more!
The fair lakes 24 Hour HVAC Professionals at AA Rapid
---